Nothing is more important to us than keeping bonito as fresh as possible.
We process fish as fast and sanitarily as possible while keeping the original taste.
The quality and color of bonito tend to deteriorate and change quickly. The original color, once discolored, will never be restored.
Therefore, the Yamafuku processing factory adopts the production line that emphasize hygiene, speed, and efficiency to maintain the product quality.
In hope of delivering our products with consistent quality to customers, we are engaged in all processes from buying in the market to production.
1.

Market buying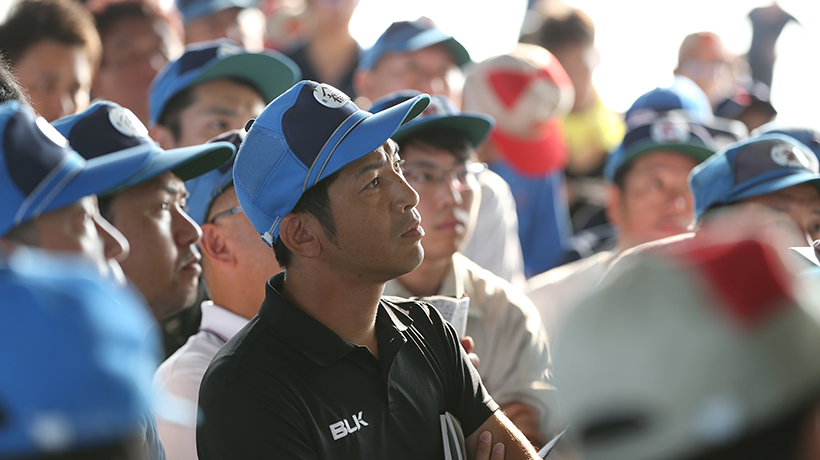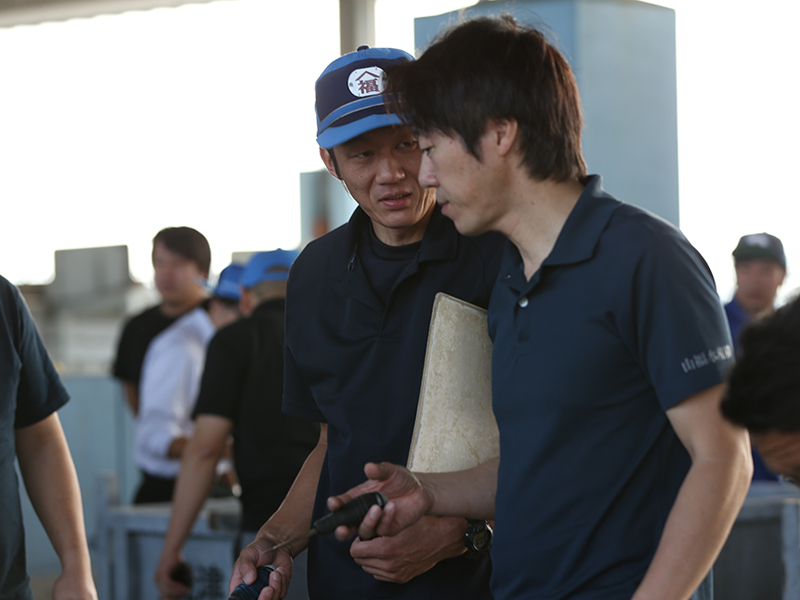 Through the eyes of inherited artisan's expertise, Yamafuku buyer closely examine freshness and quality of fish at the Yaizu Port.
All bonito and tuna fish that our company deals with are fresh since they are rapidly frozen on a ship immediately after landing.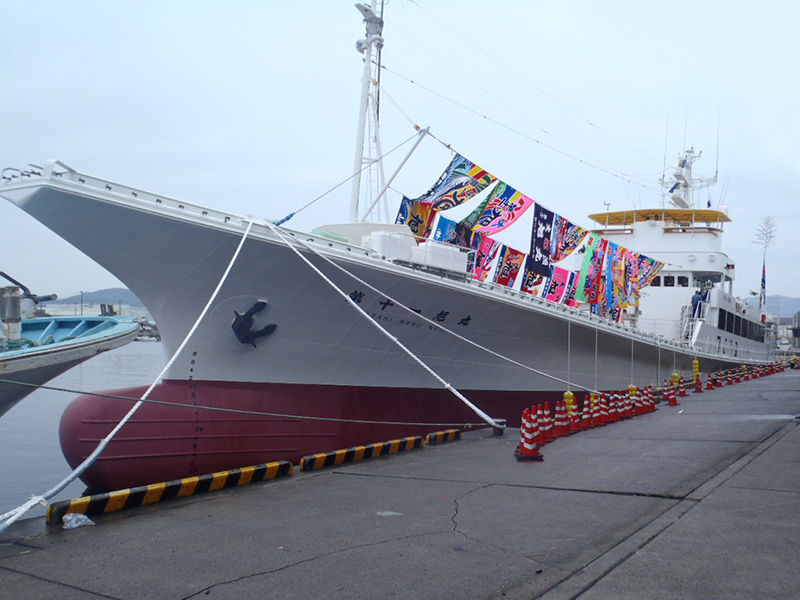 Most bonito and tuna fish of Yamafuku Suisan is caught using this pole-and-line fishing vessel.
We use living prey to pull a fish one at a time out of a school of fish, and keep freshness by rapid freezing on the vessel. The fishing days is only 1 -2 month (depending on the fishing ground) for a pole-and-line fishing vessel. Approximately up to 400 tons of fish are landed at one time.
The pole-and-line fishing is a style of fishing to prevent overfishing. It is recognized by Marine Eco Label Japan as a fishing method conscious of conservation of fishery resources and ecology.
2.

Refrigeration storage/Shipping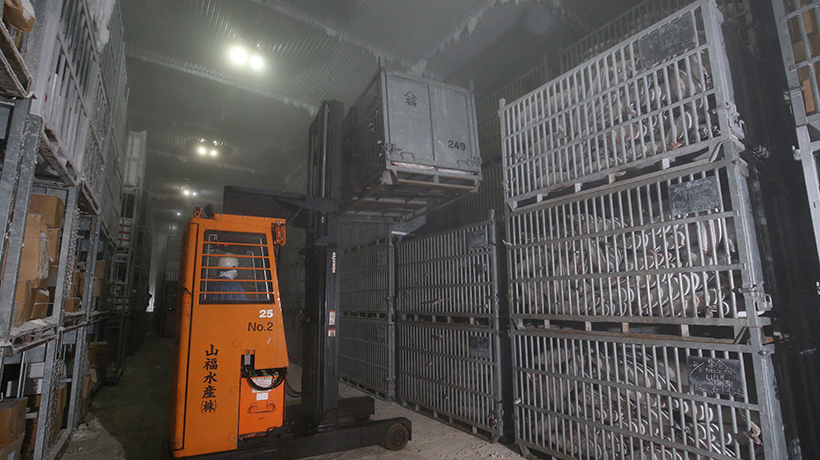 Storage –
Fish bought in the market is delivered to Yamafuku or various locations with super frozen storage while keeping the same quality as freshly landed.
We are able to provide customers with fresh products at any time throughout the year thanks to the super frozen storage.
※The temperature of the super frozen is always set at -50 to -60 ℃. Refer to the video (The temperature of household refrigerator is kept below -18 ℃).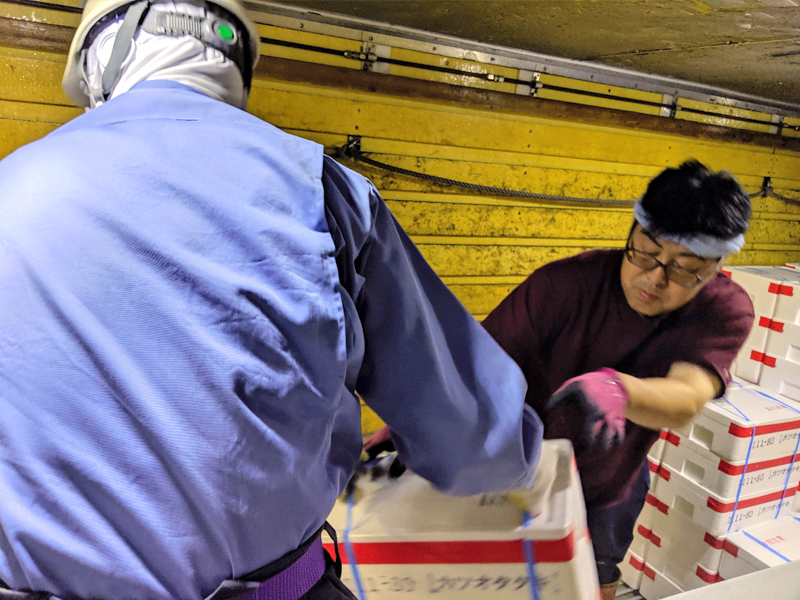 Shipping –
The products stored in our super frozen strage are shipped as needed according to an individual instruction.Loading and shipping operation is carried out rapidly and carefully in order to keep the quality of the products.
3.

Loin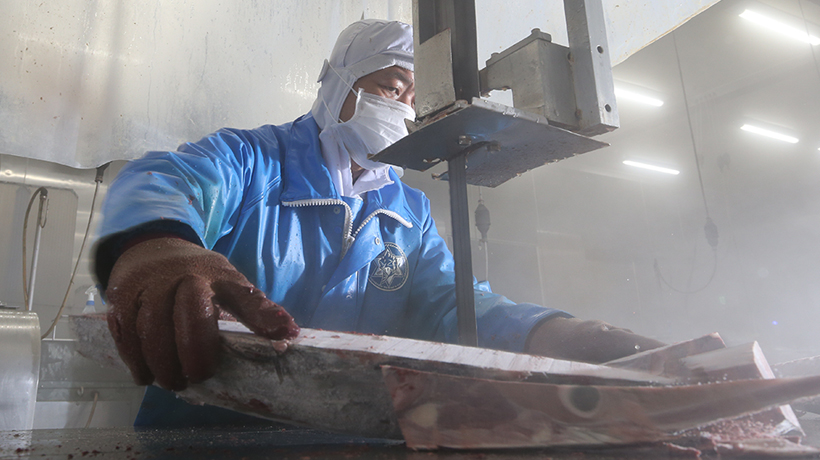 1 –
For the quality maintenance purpose, an only portion necessary for the time being is taken out from super frozen strage. The head and tail of a fish is cut off with an electric chain saw, then the body is cut into 4loins.

2 –
The fish viscera is removed with a hammer.
3 –
Next, the loin is shaped up using a shaping machine. The loin is applied to the rotary blade for grinding off excessive skin and bones. Shapes to be formed vary depending on each product specification.

4 -
Then, we visually inspect to see if there are any foreign matters attached to the shaped loin or any uncut bones before weighing and packing.
4.

Tataki (seared)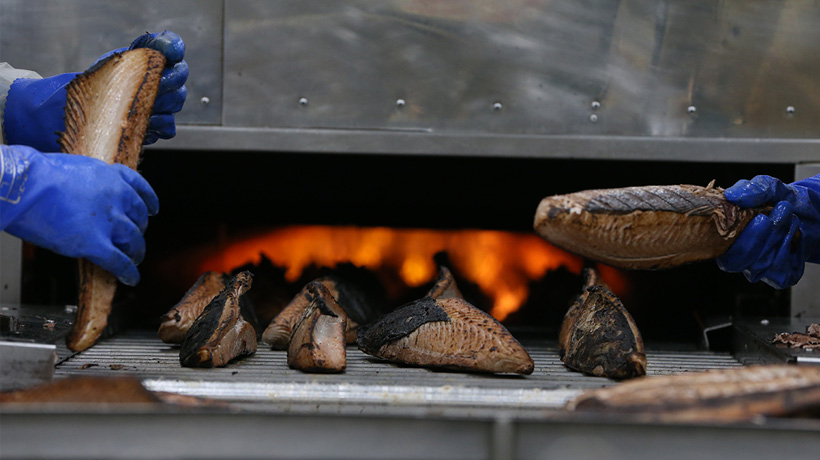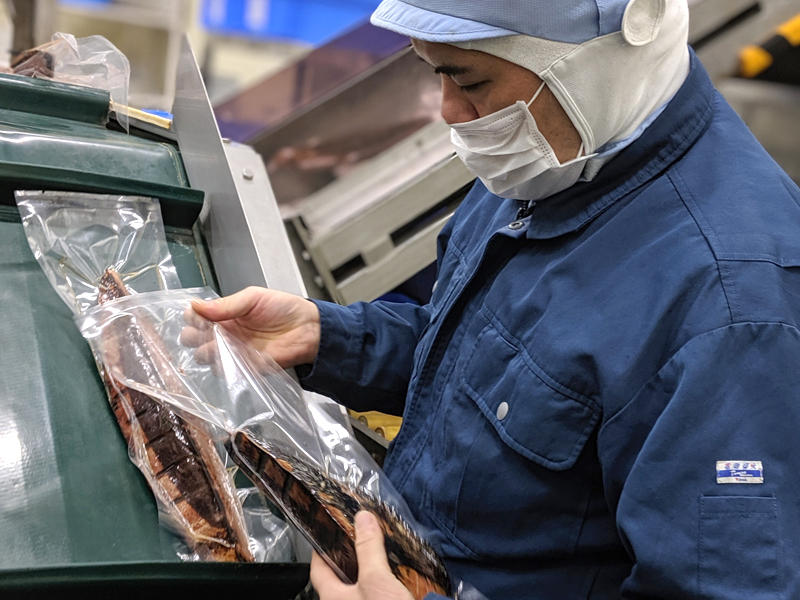 1 –
The frozen raw materials (loin) are arranged on a conveyer to be broiled at once at the temperature of 1300℃.

2 –
Then, we inspect presence of foreign matters or small bones before vacuum-packing.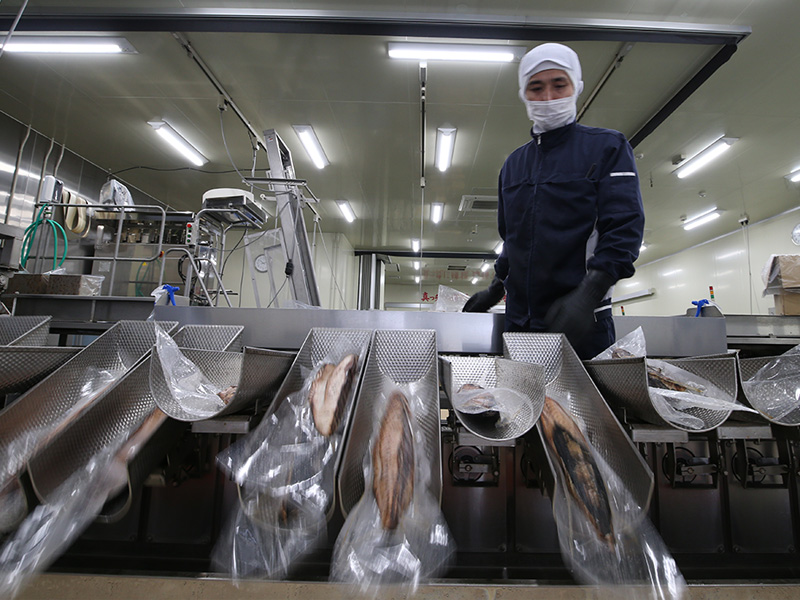 3 –
The vacuum-packed seared products are rapidly refrozen in the calcium chloride freezer tank cooled to the temperature of -40℃.

4 –
The refrozen seared products are weighed and packed efficiently and evenly by automatic weighing instrument.
5.

Slice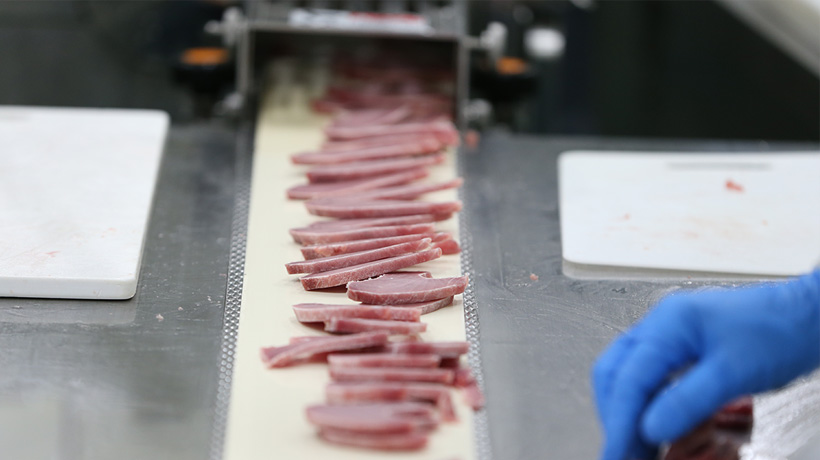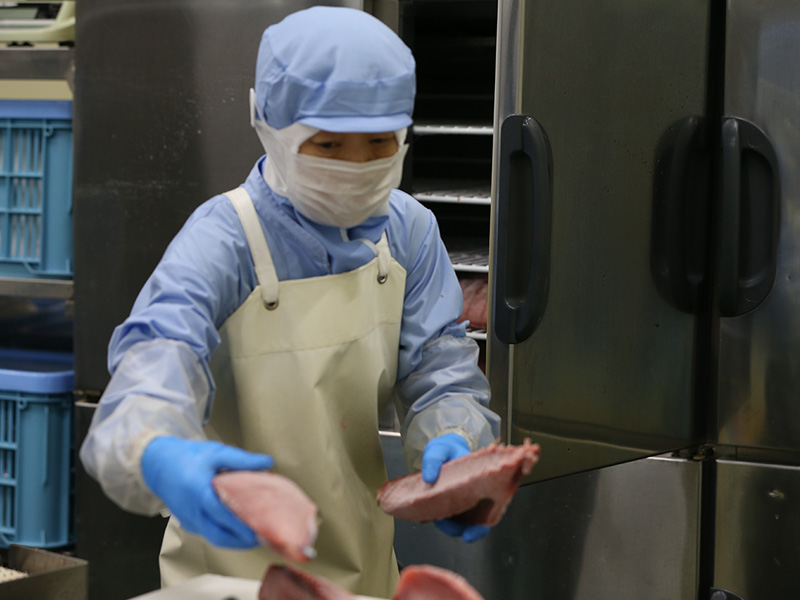 1 -
On a day before processing, the frozen raw materials (loin/tataki) in the thawing chamber. They are thawed slowly to a semi-frozen state.
The thawing time and the temperature vary depending on the fish species and the form of frozen raw material.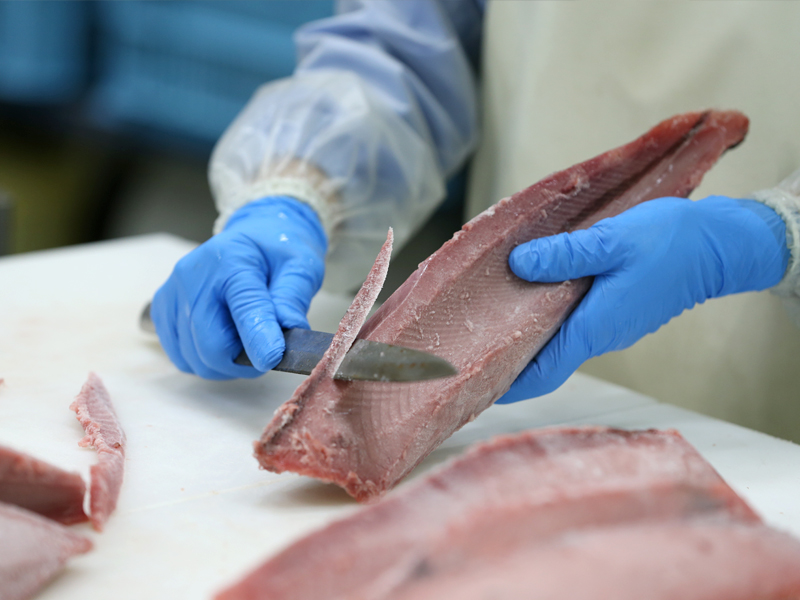 2 -
A necessary portion of the partially thawed raw material is taken out from the thawing chamber for trimming.
Then, the portion is passed through a slicing machine set at the standard thickness and angle for even slice.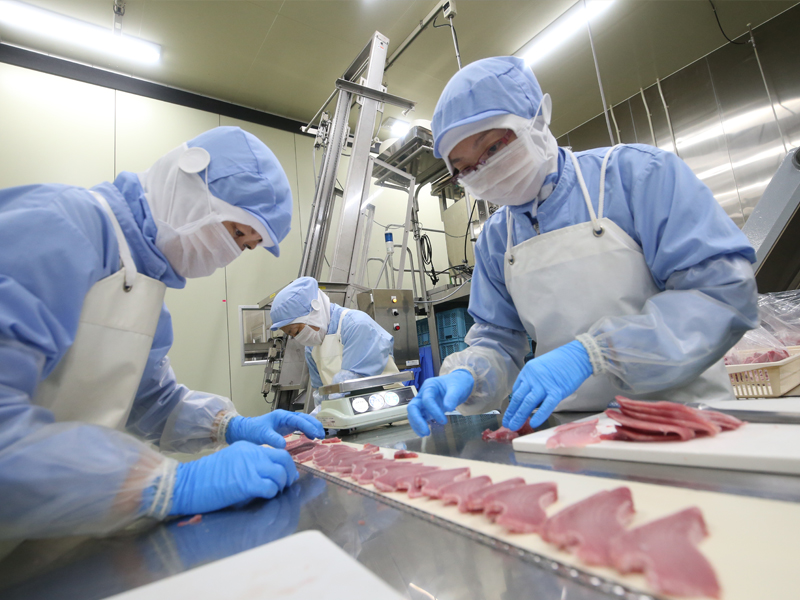 3 -
The sliced products are carefully inspected before being weighed by automatic weighing instrument for packing.
The products are checked after each process through a metal detector for verification of safety and security, and are immediately stored in a super frozen strage.
The Yamafuku Suisan's products are delivered to customers' dining table only after going through strict checking process at each stage of production.